Contact & Location
Where to find us
The location of Buena Vista del Rincón EcoAdventure Park Hotel & Spa makes us a real Rincón de la Vieja mountain lodge. Buena Vista offers activities and tours where you can experiment being well with yourself... our "sabanero style" Costa Rica lodge, nestled in the tropical forest of the Guanacaste mountains, still has its traditions; it will make you feel well in body, mind and spirit.
We are located in the foothills of the Rincón de la Vieja National Park, part of the Guanacaste Conservation Area and the United Nations Educational, Scientific and Cultural Organization (UNESCO), which has four of the five main ecosystems of the tropics that represent the only location of this type in America. Our property has a primary forest that we preserve as a prolongation of this rich protected area.
We welcome all inquiries. We hope that all visitors feel free to contact us with any questions or concerns. Our staff is on hand to respond with the warm Costa Rican hospitality for which we are known.
How do I get there?
From McDonald's Liberia 31 kms (20 miles). Take Route 1 (Inter-American Highway) towards the West 13 kms (towards La Cruz), turn right to Cañas Dulces and continue 17 kms more on this route. Of the 31 kms (20 miles), 20 kms (12,5 miles) are paved and the remaining 11 kms (6,8 miles) are a ballast-type road in good condition so all types of vehicles can transit. The slopes are cemented.
Buena Vista del Rincón EcoAdventure Park Hotel & Spa
Guanacaste Province
Canas Dulces, 50102
Buena Vista Del Rincon Eco Adventure Hotel And Spa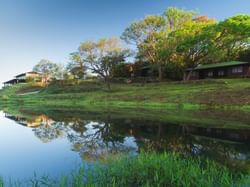 What to bring?
We are an Eco Mountain Hotel in Rincón de la Vieja, in Costa Rica´s tropical forest where in dry season it stays green, which allows the natural richness to be appreciated all year round. 
Remember to bring: 
Insect repellent
Tennis shoes or comfortable shoes to walk
Long trousers
Bathing suit and sandals
Sunscreen
Cap or hat
Flashlight
Rain cape