Gastronomy
Life offers organic enjoy!
Here you eat delicious, nutritious, and healthy. Main ingredients are nature in every plate and LOVE in its preparation.
Delicious meals are served from the garden and farm to the table, grown with love, without harmful chemicals and always fresh, all under the principles of sustainability and regenerative development.
For us, gastronomy represents a basic expression of the cultural identity of our people. We offer a delightful dining experience inspired by ancestral recipes of traditional Guanacaste dishes which we named after legends, history, and anecdotes to make them unforgettable.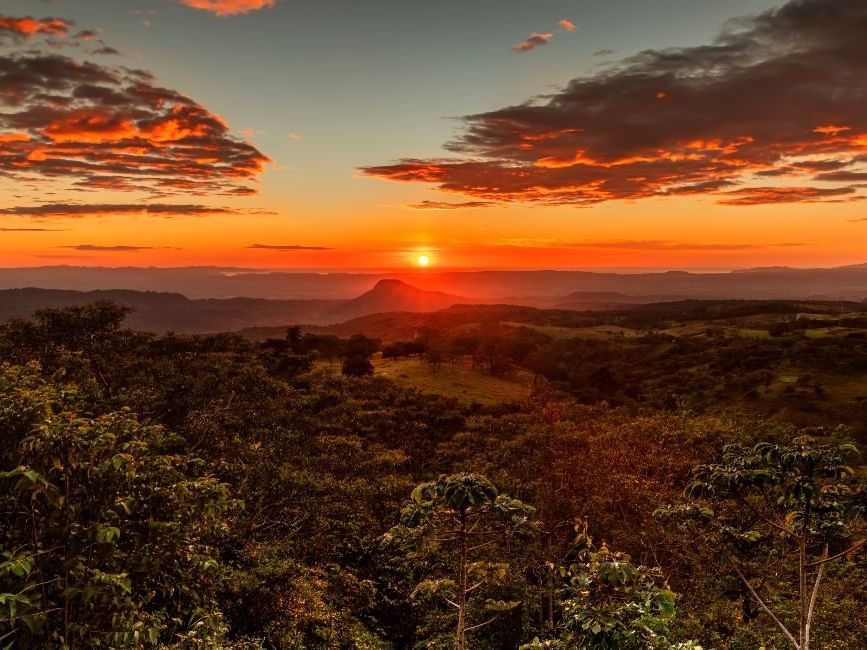 El Mirador - Unforgettable sunsets
This is a special place to enjoy incredible sunsets with a view to the Guanacaste pampa and in the background, the pacific coast. A wonderful and colorful spectacle in the sky at sunset.
El Mirador has a spectacular view from the Gulf of Papagayo, Santa Elena Bay, Orosí and Rincón de la Vieja volcanoes, Góngora, Cañas Dulces and San Roque Hills, to the production of renewable energies: Geothermal Project Borinquen I and wind energy towers.

The perfect place to have a snack and a cocktail and relax before the day ends.
Here you can play pool, watch TV, or enjoy board games with family and friends.
Open from 5pm to 8 pm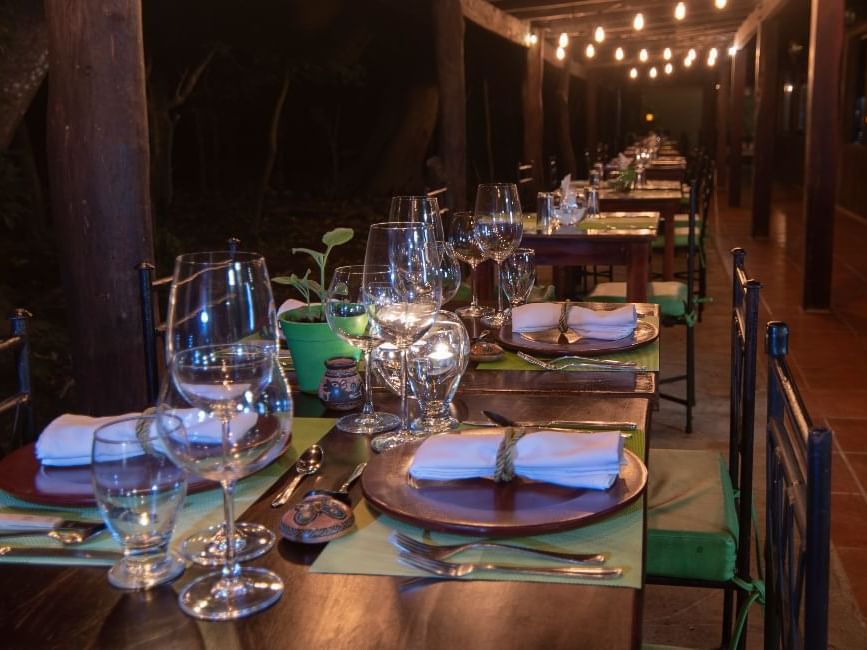 La Montaña - Traditional Environment
Traditional culture is felt in this spacious, relaxing, and comfortable place where you can enjoy its Guanacaste environment and freshness from Rincón de la Vieja tropical forest while chatty magpies, shy iguanas, amusing agouti, big hens, rabbits and, if you are lucky, coatis and monkeys approach the garden curiously.
The menu offers an exquisite experience of flavors, based on seasonal products and prepared with natural ingredients, while enjoying the Guanacaste culture with a starfruit juice or a delicious freshly poured coffee.
Restaurant hours:
Breakfast from 6:00am to 10:30am
Lunch from 10:30am to 3:00pm
We close at 3 pm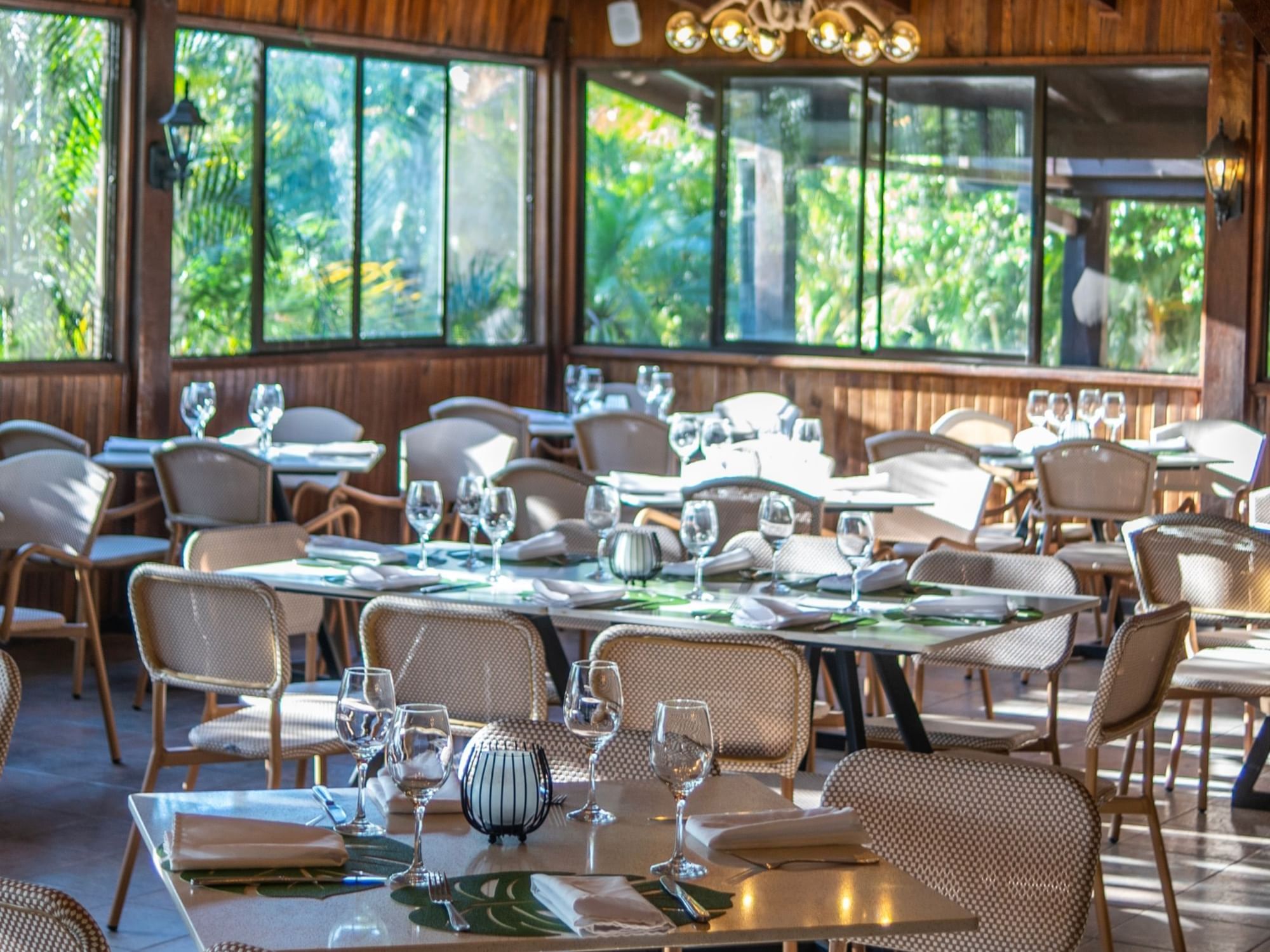 El Jaguar - Honor to the majestic king of fauna
This restaurant makes you feel like you are partying in the Costa Rican tropical forest, where the majestic jaguar reigns, surrounded by flora and fauna from Rincón de la Vieja.
The menu has the best Costa Rican gastronomy: dishes elaborated with sustainable products, recipes with ancestral roots, and curious and funny names of dishes that honor folklore, legends, and anecdotes from Guanacaste.
Wonderful aromas, flavors, and colors that will make each dish an original and unforgettable dining experience.
Opening times:
11 am to 8:30pm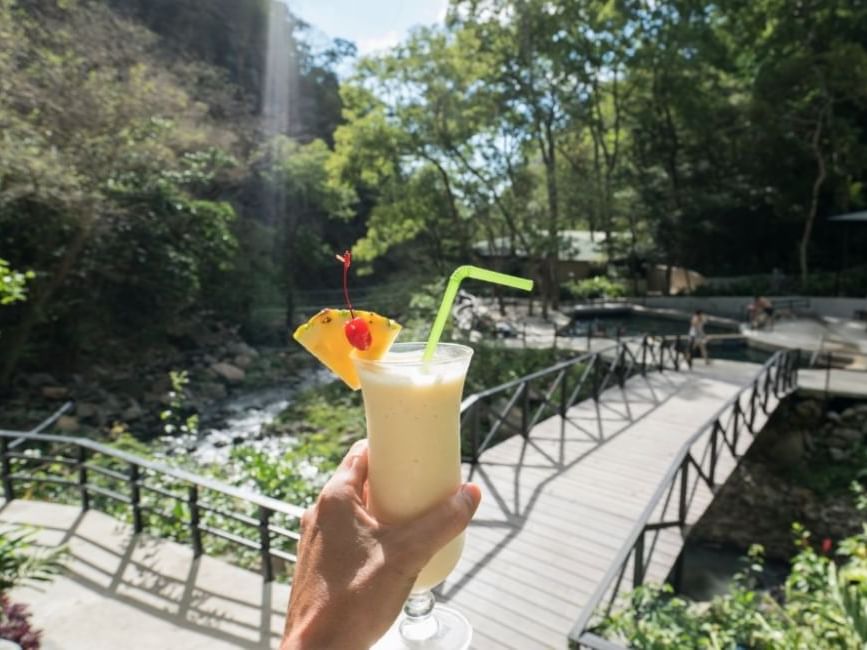 Ficus Coffee Shop & Bar - In the heart of the forest
This coffee shop and bar offers our visitors delicious coffee, natural beverages, beer and cocktails, as well as snacks and fast food. Located in Pacayas Hot Springs, surrounded by lush rainforest and sounds of nature arising from Rincón de la Vieja volcano.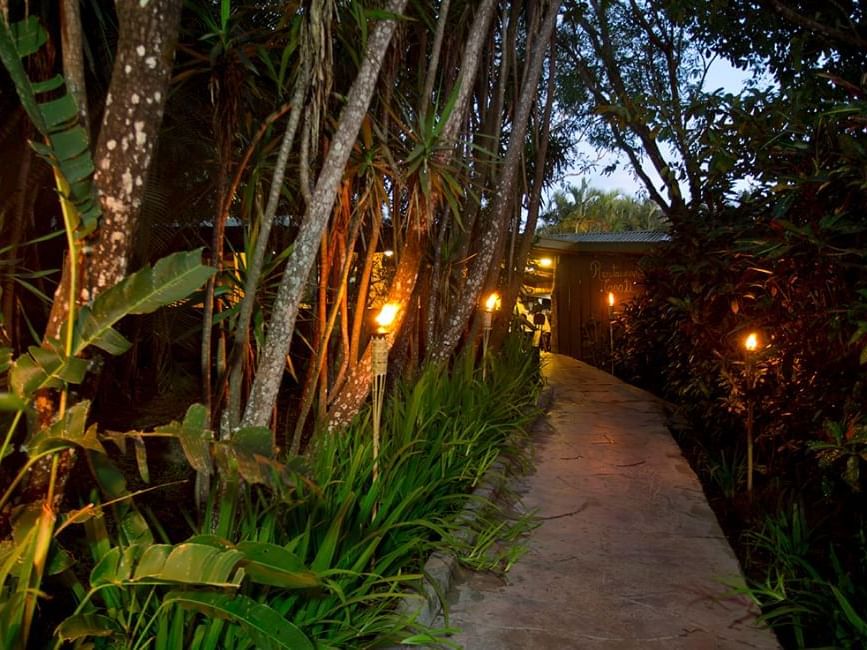 Coati - In the cantina
Temporarily closed
In a traditional Guanacaste ranch setting with an informal atmosphere is COATI, a typical bar-cantina with indigenous decoration of the area giving our guests a warm welcome to enjoy a broad menu of drinks, liquors, and cocktails as well as delicious snacks.
It is located near the hotel´s front desk and it is also an area reserved for breakfast and dinner for large groups.