Make a Splash! Our Guide to the Best Guanacaste Beaches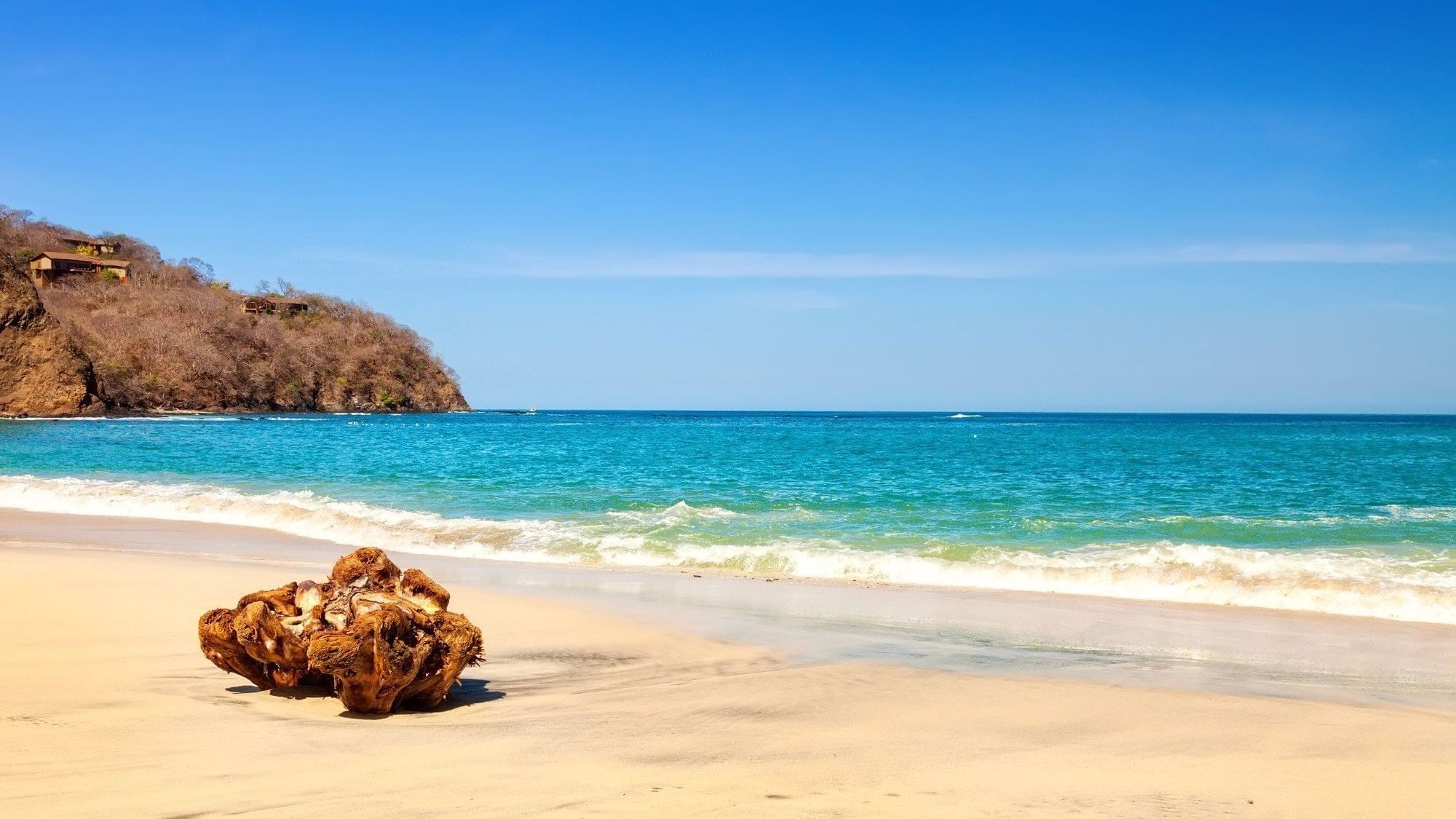 The area receives little rainfall and consistent sunshine from November all the way to May, resulting in a unique tropical dry forest climate. In fact, Guanacaste is commonly known as the "Sunny Side of Costa Rica".
So, if looking to escape the northern winter, this is the place to be.
Guanacaste is a beautiful province located North West of Costa Rica, bordering the great Pacific Ocean. It's famously known for its beaches, national parks, and natural resorts. Guanacaste beaches boast of endless options for recreations which is one of the main reasons why international visitors love it here.
To help you out with your vacation planning, we've listed a comprehensive guide to the best beaches in Guanacaste that you should certainly visit.

1. Conchal Beach
Situated north of Guanacaste Province on the shores of the Pacific Ocean, Conchal is the most exotic beach on the Costa Rican Gold Coast. It stretches over 2 kilometers (1.2 miles) and is endowed with white sands and crystal clear waters.
Conchal Beach has the perfect weather for sun basking with over 10 hours of daylight from December to April.
Some of the popular activities you can enjoy on this beach include snorkeling, scuba diving, boat riding, and horse-back riding. The water is always at a comfortable temperature, perfect for swimming.
The highlight of your visit to this beach is a magnificent sunset on the horizon every evening.

2. Tamarindo Beach
If you're planning on spending more time in the sun, then visiting the Tamarindo Beach should be on top of your things-to-do list in Guanacaste.
It boasts of amazing views and breathtaking sunsets. The beach coast is also dotted with oak trees, tamarind trees, and coconut trees that complement its beauty and provides shade during the hot sunny days.
Some of the activities you get to enjoy here include swimming, surfing, horse riding, fishing, and water sports. The beach stretches across 2 kilometers (1.2 miles) and is lined with white sands and gentle sea waves.
And if you like shopping or just want to get a souvenir of your trip, there's a range of exotic boutiques and galleries found on this beach.

3. Grande Beach
Environment enthusiasts will love exploring this beach. It's quieter and known for its Leatherback Sea Turtles that lay their eggs on the beach.
Additionally, if you like chasing waves, this is the perfect beach for surfing. It, however, has tough currents and a steep sea bottom that makes it less enjoyable for swimming.
To help preserve the natural habitats of the Leatherback turtles, the Grande Beach is only accessible during the day.

4. Flamingo Beach
This Guanacaste Costa Rican beach is the epitome of bliss. Situated on the Gold Coast of Costa Rica, its white sands and blue waters attract thousands of visitors annually, especially during the Easter holidays and the month of December.
This beach is known for hosting an annual sailfish tournament every July where you'll find a range of marine delicacies including tuna, snapper, and sailfish.
At the beach, you get to enjoy a variety of ocean excursions such as scuba and snuba diving that's offered all year round. You can also catch a breathtaking, fiery sunset every evening.
Because it has no nearby urban center, you won't find many shopping amenities around Flamingo Beach. To enjoy exotic Costa Rican menus and nightlife, you'll have to check out the nearby town of Brasilito.

5. Junquillal Beach
For an adventure-filled vacation, the Junquillal beach is your best bet. You'll get to enjoy deep sea fishing and beautiful, serene hikes along the 4-kilometer (2.5-mile) beach. You can also enjoy other adventurous activities such as mountain back riding, horse-back riding, and sightseeing.
The beach has a variety of accommodation options to suit your budget and style including villas and eco-lodges. But before you sleep, take a guided night walk on the beach to witness turtles come ashore to lay eggs.
What's more, the Junquillal beach is one of the most environment-friendly Guanacaste beaches as it boasts of the ecological Blue Flag status.

6. Avellanas Beach
Avellanas is a pristine beach with magnificent aging trees and a dry, tropical forest. It's endowed with crystal waters and rocky coast.
This beach is great for swimming as it comes with a gently dropping sea bottom and a few underwater rocks. With fewer people, this is the perfect place to relax, especially if you're not a people person.

7. Hermosa Beach
Located just 20 minutes' drive from the Daniel Oduber International Airport, Hermosa Beach is one of the best-maintained beaches in Guanacaste with its crystal clear blue waters and gorgeous scenery.
The beach maintains high environmental standards and excellent safety facilities. It also prides itself for holding a Blue Flag badge.
You can look forward to amazing diving safaris and snorkeling opportunities at this beach.

8. Playas del Coco
This is a family-friendly beach that's loved by both locals and tourists. It has a park where families can enjoy picnics and fun games.
The beach also has a playground with monkey bars and swings. Children can get to enjoy a range of water activities since the water is always calm and at the right temperature. The sand is also good for building sand castles.
Visit the Best Guanacaste Beaches During Your Next Vacation
If you're looking for the best Guanacaste beaches to visit during your next vacation, the spots above are highly recommended. You'll be spoilt for choice when it comes to recreations and fun activities that you can enjoy with your family.
Book a reservation today for your transport and accommodation needs at Buena Vista Del Rincon. We also offer a state-of-the-art eco-adventure park and relaxing spas. If you need help planning your Guanacaste trip, get in touch with us.