Best Things to do in Rincon de la Vieja Costa Rica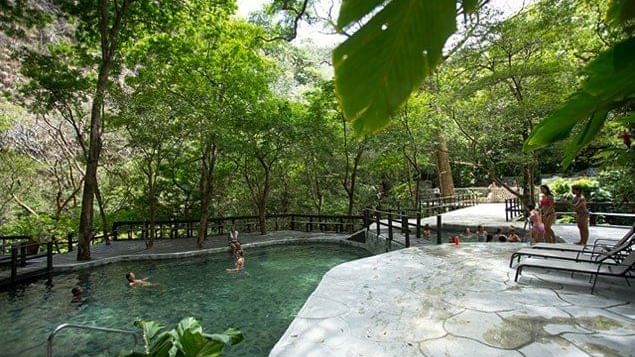 If you're wondering about things to do in Rincon de la Vieja Costa Rica, we can show you some of the activities you can enjoy while feeling the authentic Costa Rican vibe. Guided tours are an excellent way to get to know the magnificent land of the Rincon de la Vieja national park. From eco-tours, adventure tours, wellness tours to cultural tours, there is so much to choose from in Rincon de la Vieja that you will wish you had stayed longer!
Eco-Tours
Eco-tours are a wonderful way to feel the warm, lush, primary tropical forest which is so abundant in Costa Rica. The "pure nature" of the land hosts approximately 4% of the world's species, and Costa Rica is one of the 20 countries with the highest biodiversity!
There are 6 trails suitable for all ages, perfect for enjoying the wonderful flora and fauna of the region. If you enjoy waterfalls, a 30-minute hike will take you through the tropical forest, where you will encounter the "jewel of the Rincon de la Vieja", the Salitral waterfall. If you keep hiking, further along, you will reach the thermal waters.
Salitral is not the only waterfall in the foothills of Rincon de la Vieja. Azufrada and Tobogan are two more of the crystal clear waterfalls in the area. You can choose between a horseback riding tour (duration 2 1/2 hours) and a walking tour (3-4 hours), taking you through the forest with green spaces in the volcano's foothills. It's a spectacular opportunity to see birds and animals, pass by a sulfur mine, a small water slide where you can take a dip, and the stunning views at the Salitral Waterfalls.
The entire year is an opportunity to go birdwatching in Rincon de la Vieja. In the surroundings of Buena Vista ecolodge, the birdwatching tour includes crossing the hanging bridges and trails. The tour lasts from 1 to 2 hours. A separate, hanging bridges tour takes you over 16 bridges going as high as 20 meters. The tour duration is 1 hour, and it's a perfect opportunity to experience the primary tropical forest from high up.
If you want to take hiking on a whole new level, there is an amazing experience that's different from the traditional Costa Rica eco-tours: the night hiking through the trails and hanging bridges! Tropical forest's nocturnal ecosystems are diverse and abundant in wildlife, and we think they are definitely worth exploring.

Adventure Tours
When you think of adventure in Rincon de la Vieja, you cannot skip the zip line as it's one of the most sought-after activities for our visitors. Various zip line canopy tour options are possible, so you can choose the level of adrenaline and adventure, as well as the duration. From a simple zip line tour to premium, to the whole-day multi-activity experience, you can choose and enjoy the wonderful, super secure ride through the tropical forest. It's going to be a unique opportunity to see some species of the forest who are otherwise invisible!
A special treat for adrenaline lovers is the Tarzan swing, a free fall suspended from approximately 50 meters in height. If you love horseback riding, there are wonderful riding tours we recommend checking out. Whether you take the one to the Thermal Waters or the tour which leads to the Three Waterfalls, it will be an extraordinary opportunity to enjoy the beautiful views during the ride through forests and rivers.
Take on the 425-meter long water slide. It is a refreshing experience, perfect for an adventurous feeling!

Wellness Tours
Do you want to improve your health or simply relax? That is a perfect thing for working on while in Rincon de la Vieja. If you're interested in activities that are made for self-care and resting, we can recommend that you immerse yourself in the wellness tours of Rincon de la Vieja.
Natural hot springs in the tropical forest are a one-of-a-kind experience you can have in Rincon de la Vieja Costa Rica. The 5 rustic thermal pools wait for you, filled with warm water coming from the Rincon de la Vieja Volcano. Different temperatures to choose from, sauna or volcanic mud, along with the relaxing forest sounds and the quiet murmuring of the rejuvenating and therapeutic water, make the whole experience wholesome and pleasant. You can travel by a horseback, tractor, or hike to reach the Jungle Hot Springs. Massages and natural body treatments are also available, and they are definitely one of the great ways to connect with nature.
Organic and garden-to-table food is something we find valuable to the overall wellness experience. Freshly harvested, organic fruits and vegetables, free-range organic eggs, or milk and dairy products from the nearby milking parlor, will make your gastronomical experience unforgettable.

Cultural Tours
If you like to see extraordinary things, Rincon de la Vieja Costa Rica is a place where you will meet incredible local affairs such as coffee producing, Fonda, Guaitil crafts, a one-of-a-kind milking parlor, and cheese making.
How often do you find yourself thinking where your coffee comes from? Learning about the whole processs, from the seed of the plant to the cup, is going to be an enriching experience for which you'll get to appreciate your favorite daily ritual even more.
Grano de Oro - "Grain of Gold", is the local coffee variety, and you can witness the complete coffee production process, from planting the seed, harvesting, recollecting, to drying and roasting the beans using ancestral techniques. Fonda, or "Kitchen of the Haciendas" is another representation of the gastronomic heritage of the region. We love that it preserves the roots and customs of the region of Guanacaste. The earthy materials used for cooking are an important element in the taste of the food. You can enjoy cooking with wood in clay stoves and ovens, still using tools from Pre-Columbian times. Beautiful, Pre-Columbian style pottery is a living piece of the Chorotega Indian Culture. Craftsmen from the Guatil town share their ancestral techniques producing ceramics in various forms, such as clay pots, mugs, vases, and other figures.
Rincon de la Vieja Costa Rica is going to change your perspective on what tropical nature and wholesome living are. From adventure to culture, through excursions and tours available, you will be able to experience a marvelous tropical forest living for as long as you stay.