The Ultimate Guide to the Best Beaches in Costa Rica for Families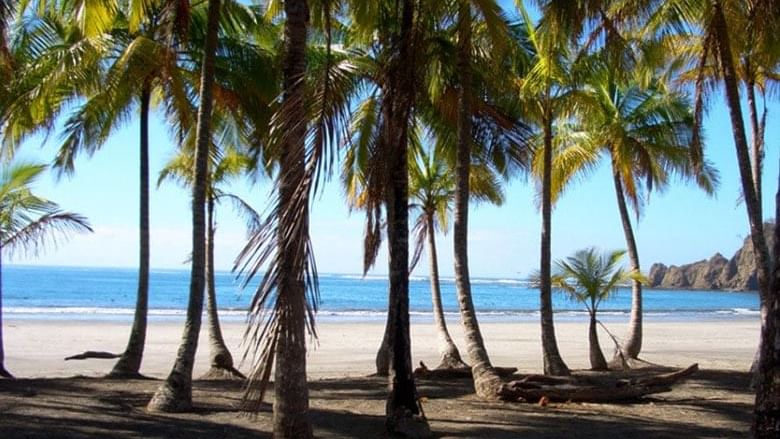 Costa Rica is the perfect destination for young families to get away and for family reunions.
One of the biggest draws to our beautiful country is our family-friendly beaches.
When traveling with children and youth, you must take extra precautions. It's important that the water isn't too rough for wading and there are enough nearby activities to keep everyone entertained.
To help you plan your upcoming family vacation, we've compiled some of the best beaches in Costa Rica for families. Keep reading to find out which ones you must include in your itinerary.
1. Playa Hermosa
When people visit Guanacaste, they often come for Tamarindo and the fiesta scene. However, this area also has some spectacular beaches for families looking for a quiet, peaceful trip.
Playa Hermosa sits on the northern Pacific coast. Its wide cove has slow, gentle waves that calmly roll up the beach.
It's an excellent beach for toddlers and young children who aren't ready to swim in the rougher surf. Kids can walk along the coast looking for seashells without risk of riptides or undertow.
Nearby Activities and Entertainment
When your little ones tire of the sand and surf, there are a handful of family-friendly excursions nearby.
Besides the amazing snorkeling, jet skiing, and scuba diving, you can also sign up for horseback riding along the coast.
Our Horseback Riding Adventure Tour is perfect for families looking to explore the nearby forests, rivers, and natural water slides.
For a little less adventurous entertainment, take a tour of the nearby animal sanctuary. Or, sign up for a boat tour of the Palo Verde National Park. You just might spot a crocodile!
2. Playa Carrillo
Samara is one of the most popular Costa Rican tourist destinations for families. Next to this vibrant yet quaint town is Playa Carrillo.
This is the optimal beach for young families due to its low waves and weak tide. Kids can swim and play in the sandbar and then relax on the warm, soft sand.
The beach itself is crescent-shaped and lined with stunning palm trees. There's plenty of shade and space to spread out.
Nearby Activities and Entertainment
There aren't any restaurants directly on the beach, so it's best to pack a picnic to enjoy on the sand. However, a short 15-minute drive takes you to the town of Samara where there are plenty of dining options and entertainment.
If your kids enjoy learning about animals, visit the macaw parrot breeding center. Or, go on a turtle-watching tour from a boat or kayak.
Older kids might enjoy taking surf lessons on the beach from local instructors. It's the perfect beach to learn basic surfing skills.
3. Playa Samara
The town of Samara has its own family-friendly beach called Playa Samara. It's just as quiet as Playa Carrillo, only with more on-site amenities.
With a coral reef near the shore, the water is always calm and gentle. It's perfect for swimming and other water sports. The reef makes it an extra exciting spot to go snorkeling.
There are rarely crowds on this beach so your family can enjoy paradise in peace. You also don't have to worry about a rowdy party scene.
Nearby Activities and Entertainment
You don't have to go far to find fun things for your family to do. Take a family yoga class at Casa Coba and get your zen on.
Sample the local organic food at one of many food stalls, restaurants, and bars. We recommend sticking around for sunset either on the beach of from a restaurant patio.
If you and your kids want to learn some Spanish, the nearby Intercultura Costa Rica Spanish School offers beachfront lessons.
4. Playa Manuel Antonio
Manuel Antonio National Park is a popular destination for tourists and Costa Ricans alike. It has some of the country's most spectacular viewpoints, hiking trails, and waterfalls.
It also has Playa Manuel Antonio which is an excellent beach for families.
The cove features aquamarine water, soft sand, calm waves, and almond trees for shade. Its picturesque scenery will make you want to stay here for your whole trip!
Nearby Activities and Entertainment
Most people come to Playa Manuel with the intention of also going on a hike. There are plenty of trails suitable for children and seniors.
One of which is El Manglar Trail which features a raised platform to walk on instead of the ground. This provides the perfect flat surface for baby strollers.
As you venture down the trail, you'll eventually come across the mangroves. It's not uncommon to see crocodiles in this area so keep an eye out!

5. Playa Pelada
In the northwestern region of Guanacaste is the town of Nosara. This town is known for beaches, relaxation, and yoga. It's the perfect setting for families who want a rejuvenating vacation together.
Playa Pelada is one of Nosara's best beaches. Not only are the ways gentle and the water calm, but there are tide pools to enjoy with your baby or toddler.
Nearby Activities and Entertainment
Families often enjoy the various activities near Playa Pelada. You can visit the Ostional Wildlife Refuge to see some native Costa Rican wildlife.
You can enroll your kids in children's yoga lessons or Spanish language classes. There's a Nosara Kids Camp that includes a giant play park called Gabi's Play.
Of course, if your family is looking for adventure, there are plenty of ATV tours, river safaris, and stand-up paddleboarding.

Ready to Visit Some of the Best Beaches in Costa Rica?
Some of the best beaches in Costa Rica also happen to be family-friendly. If you're planning a family vacation, make sure you include some of the beaches listed in our guide.
We can make your vacation planning easy and seamless. Buena Vista del Rincon has four different accommodation options, an eco adventure park, a spa, and tons of tours for every travel style.