Guanacaste Costa Rica Hot Springs and Mud Baths
Buena Vista del Rincón offers the best hot springs and mud baths in Guanacaste, Costa Rica (close from Liberia town). We are located in the foothills of the Rincon de la Vieja National Park. The perfect natural volcanic hot springs option for people staying in Tamarindo and other Guanacaste locations such as Liberia, Papagayo, Flamingo and more. Below you will find how to enjoy our hot springs in Guanacaste Costa Rica.
All clients staying at our hotel have complementary (free) access to the thermal waters and mud bath as part of their stay.
Buena Vista Hot Springs Overview
Costa Rica is a land forged by fire over millions of years, and remains extremely geologically active. It lays on the eastern edge of the 'pacific ring of fire,' a massive area of geologic activity that spans the Pacific Ocean. The Central American isthmus where present day Costa Rica lies is the consequence of over 40 million years of such activity. Today, Costa Rica is home to close to two hundred volcanic formations. Nearly half of these show signs of continued volcanic activity, and includes five active volcanos- one of which lies right in our back yard. This geologic activity is the primary reason for the many natural hot springs spread throughout the country.
When rainwater enters underground fissures created by past volcanic activity, it can be heated by magma rising out of the earth's core. This water becomes infused with therapeutic minerals, and in certain locations, returns to the surface to be enjoyed as soothing volcanic hot springs.
The hot springs of Guanacaste, Costa Rica have long been prized for their rejuvenating and therapeutic properties. Our prime location allows Buena Vista to facilitate many different activities and tours where you can seek pure adventure, get lost among nature, or simply relax in the many naturally healing thermal hot spring pools around Rincon de la Vieja. There is something for everyone at Buena Vista del Rincón.
Hot Springs Tour Options
The area is dotted with thermal hot springs sprouting from the deep within the Rincon de la Vieja volcano. We offer a variety of ways to enjoy the crystalline hot spring waters in the heart of the lush tropical forest. Below are just a few of the many exciting excursions we provide to our guests. Use of the hot springs is always free for guests of the Buena Vista del Rincón.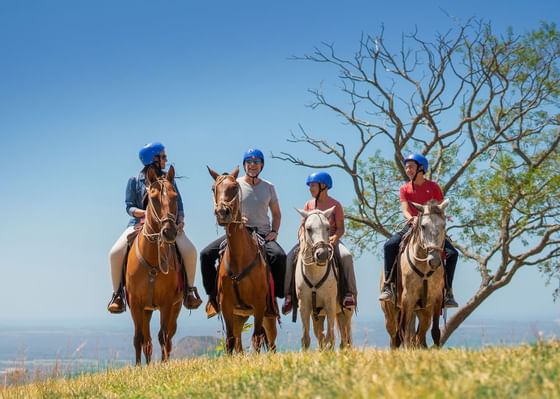 Horseback riding to the Jungle Hot Springs
There is a special intimacy between man and nature when on horseback. When you ride on horseback through meandering trails and rivers in the virgin forest, the adventure is in the journey. After a 45-minute ride atop your very own horse, you then arrive at 5 rustic thermal pools that spring from deep within the Rincón de la Vieja Volcano-just three kilometers from the lodge. With varying water temperatures, a sauna, and soothing volcanic mud, you will surely find peace and relaxation you seek.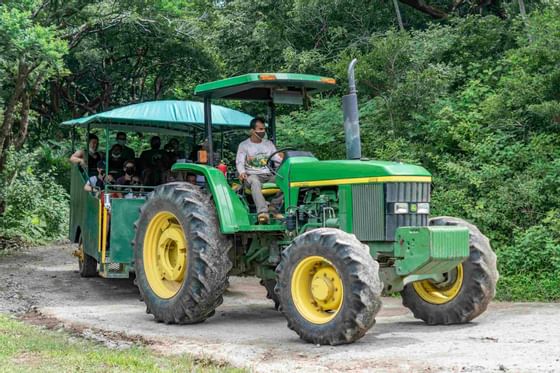 Jungle Hot Springs by Tractor or Hiking
Another great option to reach the hot springs is to take a hike on the rugged (but always well-maintained) trails located in the foothills of the Rincon de la Vieja National Park. Taking about an hour, there is never a shortage of beautiful flora and fauna, babbling creeks, and deep forest greens to take in along the winding jungle trails.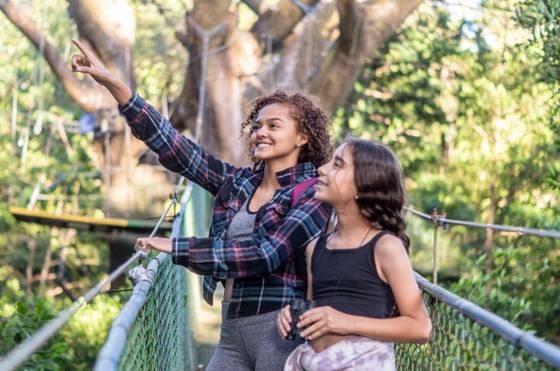 Multi-Activity All-Day Experience (The Combo)
Did you wake feeling extra adventurous today? The Combo is a truly unforgettable way to spend the day while keeping your adrenaline levels peaked. The Combo includes a Canopy Tour across zip lines through the jungle, a visit to the famous Hanging Bridges, and the opportunity to experience our 420-meter jungle water slide. This is then topped off with a ride on horseback to the world famous thermal hot springs and waterfalls of Rincon de la Vieja national park. A traditional Costa Rican lunch is Included in the package.
If you want to experience our natural hot spring pools and the volcanic mud bath we offer two options:
The first option allows you to access Buena Vista del Rincón hot springs for free. All clients staying at our lodge have complementary (free) access to the thermal waters and mud bath as part of their stay.
Book your stay here and enjoy our hot springs for free
If you are not staying with us, you can book any of our day tours that includes access to our hot springs and mud bath.