Experience is our essence
A MOVING EXPERIENCE IN THE MIDDLE OF A LITTLE PIECE OF PARADISE
We save on perfection to give you fullness in the honesty of who we are, so that your essence connects with ours.
A place to open your heart and let the soul be free; a space that relaxes your body and lets your mind fly to nourish awareness.
An experience in the rainforest is an inward immersion of life; a journey to the core of Mother Earth where your breathing is heard and your heartbeat is felt.
We are a little piece of Paradise that holds the secrets of the world´s biodiversity; a sacred place dedicated to love and connection between the essence of nature and the human heart.
Here you come to enjoy, give indulgence to your body and nourish your spirit. Adventure here lets you fly through the forest and release adrenaline in pure water slides in the jungle, until you dive into warm and medicinal waters that arise from the volcano.
Your body will be relaxed and at night you will sleep floating over the clouds listening to songs of the forest.
You will taste the flavors that the land gives us, delights from the garden and farm prepared and served by kind hands of our people that faithful to their origin keep the recipes of our region according to out ancestors´ mandate.

We are a human experience of spiritual essence

Nature
We are not part of Nature, we are Nature
A connection that allows you to live, feel and experience emotions in the middle of the tropical rain forest of Guanacaste; a great area of primary forest where we offer you activities you can enjoy with your family and friends.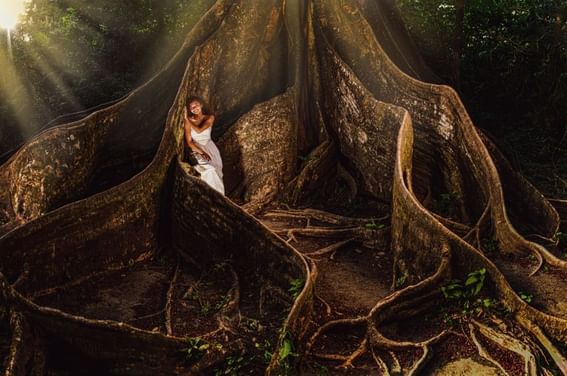 El Saino Nature Reserve
Beautiful hiking trails in Costa Rica
A hike through a wonderful and dense rainforest, considered an extension of the Rincón de la Vieja National Park in the Guanacaste Conservation Area.
You can live an incredible adventure of connection with the forest and its inhabitants. Hiking tours in Costa Rica are unique, enjoy them with us.
All nature, adventure and wellness activities will be enjoyed in the heart of the forest.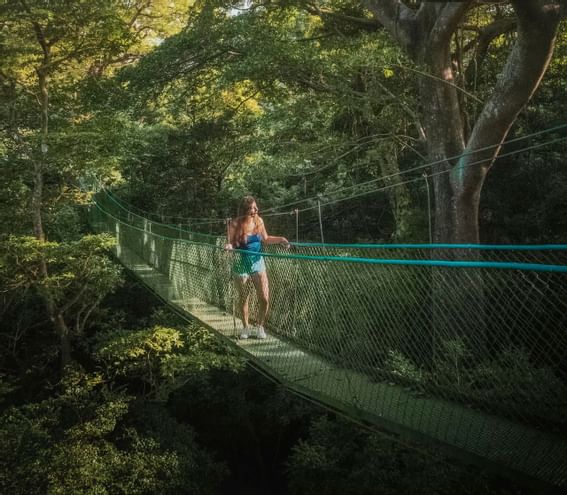 Los Higuerones Hanging Bridges
One of the best versions of hanging bridges in Rincón de la Vieja, Costa Rica: a path that seems taken from a magical tale and makes you feel like it takes you to heaven, enjoying the forest´s density and beauty from the heights.
The hanging bridges tour in native trees of Guanacaste has a distance of approximately one hour through 16 magical hanging bridges hugged by strong trees where you can observe different species of flora and fauna.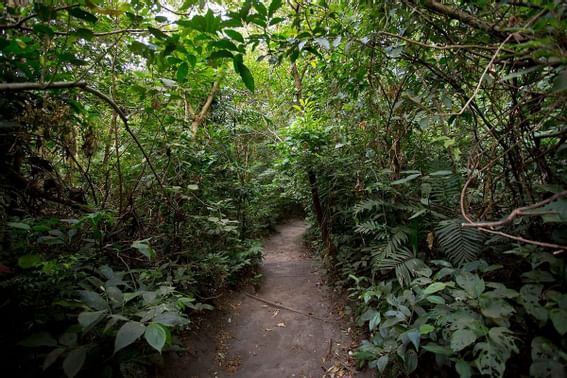 Hikes through LOS SENDEROS
Here you will find one of the best places for hiking in Guanacaste, Costa Rica, tours to go into the green, beautiful and deep forest.
Connecting with the forest is a revitalizing experience, awakening of consciousness and a boost of creativity.
The reserve is a natural network of connections and walking trails to be fully enjoyed by visitors of all ages.
An experience and the best vacations for hiking lovers in Costa Rica.
The main characters of the tropical forest: its inhabitants in their natural state: birds, monkeys, insects, mammals and reptiles, as well as immense variety of trees and plants, delighting the restless and curious eyes of our visitors.
Hikes can be 15 minutes up to 2 hours or more, depending on the physical condition or interest of each person.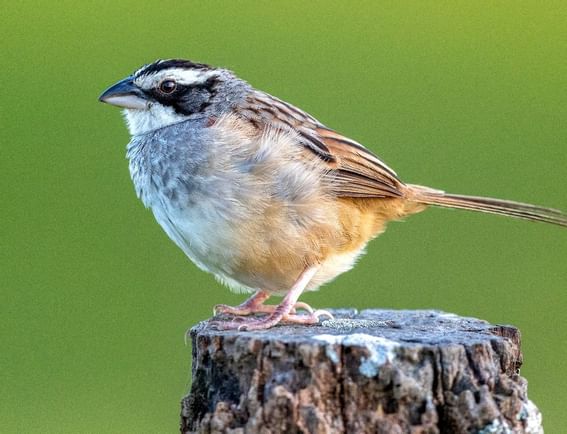 Bird watching
The reserve is a sanctuary for those that enjoy bird watching in Guanacaste.
Rincón de la Vieja National Park is one of the best places for bird watching; in this rainforest you will find more than 120 different bird species of 850 that exist in the country. This is one of the favorite places for birdwatching lovers.
In our tours you will be magically enchanted by their melodious singing, plumage and exuberant colors.
The tour includes hanging bridges and hiking and has a duration of one hour. We have the best places to hike in Costa Rica.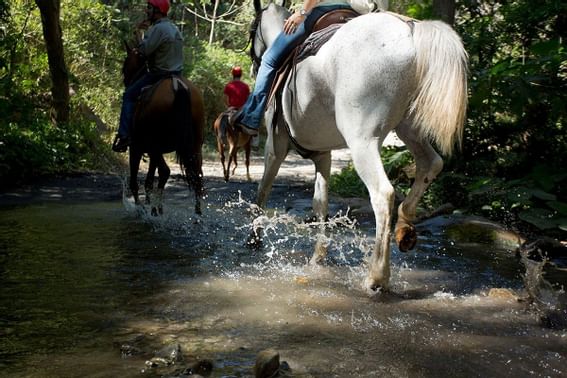 Las Cataratas
A complete experience, full of natural beauty, adventure and movement.
Horseback riding for 2.5 hours or 3.5 hours in a unique hiking tour in Guanacaste, Costa Rica, within the forest, spectacular views in the foothills of Rincón de la Vieja volcano.

Bird watching, animals and wonderful vegetation which guides us to discover three beautiful waterfalls that the universe has created to stamp its seal of love in the forest; one of them goes through a sulfur mine, the other one a natural water slide with a refreshing pool and Salitral is an impressive 80 meters waterfall.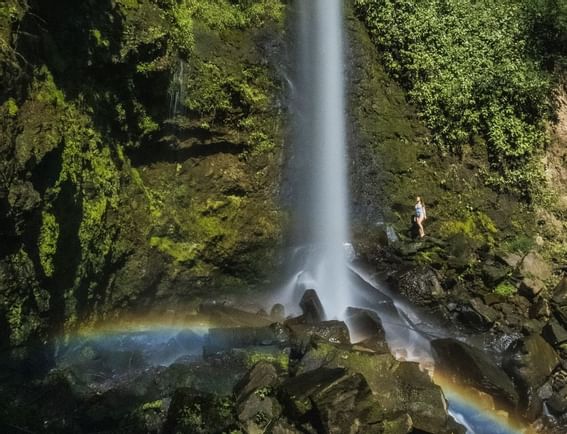 Salitral Waterfall
A 30 minutes hike through rainforest and diverse landscapes, passing by the beautiful waterfall to continue to the hot springs.
One of the best hikes in Guanacaste that you can enjoy anytime; a hiking experience near Liberia, Tamarindo, Papagayo, La Cruz and Guanacaste beaches in our beautiful Costa Rica.
Adventure
Adrenaline and emotion will travel your body and make your heart vibrate
Here you can fly over the trees and admire from above the scenic beauty while you slide down the zip line; you will descend an immense water slide at great speed driven by fresh water and you will enjoy horseback rides through magical places that seem out of a magical tale.
You will fly, scream and you will be filled with joy and excitement at the attractions of our adventure park within the tropical forest and biological reserve.
An experience of adrenaline, majesty and fun without limits.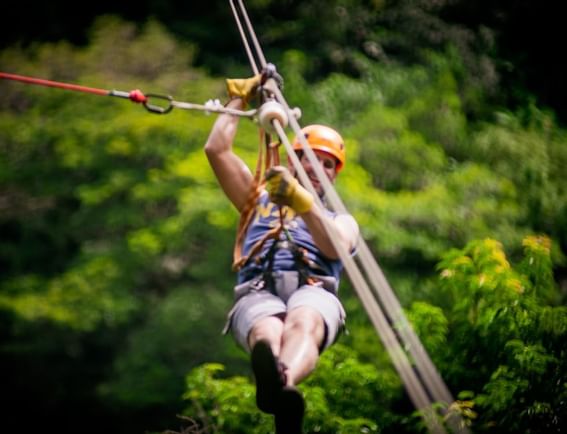 You will see me fly - Las Pavas Zip Line
A unique experience that takes you through the forest from above, a zip line in Guanacaste that is a must for every adventurer.
You will feel you can fly when you slide through 12 zip lines that cross the forest from the treetops, enjoying impressive canyons and spectacular views of the forest and Gulf of Papagayo.
You will feel the adrenaline pumping while you feel the breeze of the wind in your face while jumping off platforms to fly over trees.
The zip line tour is supervised by expert guides and you will be outfitted with the best equipment and protocols for a safe tour.
For the more adventurous there is an extreme segment of 7 additional zip lines with distances from 125 up to 425 meters long and heights ranging from 50 to 150 meters. On the way you can relax and take pictures of the Gulf of Papagayo, the Rincón de la Vieja volcano massif, as well as San Roque, Cañas Dulce and los Bastones hills. In the rainy season you can see "El Cañón" waterfall. Certainly, the best zip line in Guanacaste, Costa Rica. This tour is near to Tamarindo, Playas del Coco and Papagayo, it will connect you with the mystical rainforest.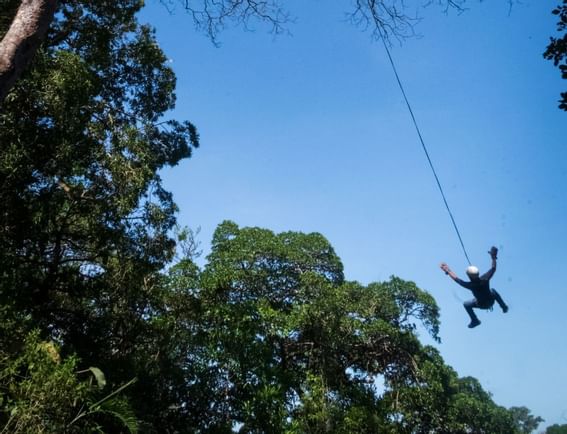 You will be the king of the forest in the Tarzan Swing
WOOOOJUUUU you will scream when you experience a free fall suspended from a platform of 50 meters high in our Tarzan Swing.
You will release all the adrenaline and your body will loosen like never before while your heart remains beating fast.
A wonderful experience in the middle of the forest, in a natural scenario, 100% safe and following all strict safety protocols, as well as using the best extreme adventure equipment and supervised by expert guides.
Zip line tour and Tarzan Swing: children aged from 3 to 6 must do the tour with a guide. Children over 7 can do the tour alone.
You will fee the excitement in your body - La Selva Water Slide
Sliding down as fast as the river in a 450 meters long water slide in the forest, without limits, full of emotions, feeling the exciting speed. This ride is amazing and full of excitement in the middle of the tropical jungle; performed under strict safety standards and necessary equipment.
The longest jungle water slide in Costa Rica.
Age-limit: 6 years old.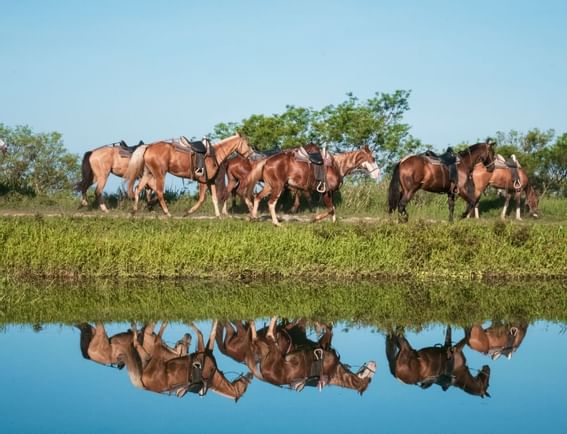 You will discover new worlds - Horseback riding
Forests, rivers, waterfalls and majestic views are waiting in our horseback rides in Guanacaste, as well as its exciting tours through the forest.
An adventure of discovery and awakening consciousness through senses, accompanied by guides on gentle horses that know the way of this blessed land of Liberia, Guanacaste, Costa Rica.
Nature is at your fingertips, rides from 3km to 20km. You can discover riding in your vacations in Costa Rica, spectacular waterfalls in Guanacaste, a sulfur mine, bath in river pools and observe a large amount of flora and fauna in the forest which houses the biodiversity that Costa Rica is proud of.

Book now Horseback riding towards the Rincón de la Vieja natural hot springs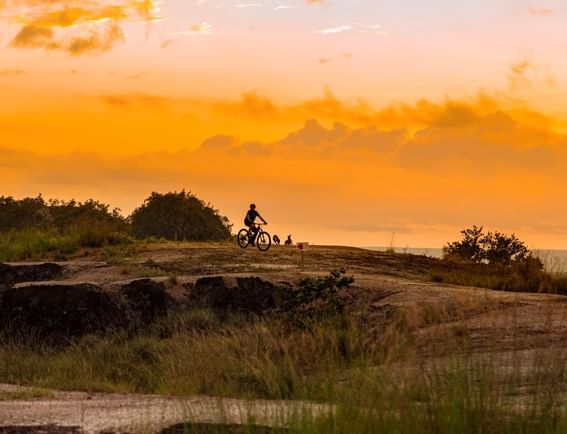 Rincón Trails Biking & Adventure
This is a wonderful natural environment for outdoor tours while you recreate or train, enjoying the landscape of the warm Ciudad Blanca.
Cañones de Cascajo, Rincón de la Vieja, Cañas Dulces, Góngora and San Roque Hills, are part of a warm setting where you can enjoy with family and friends, take your pets for a walk, breath fresh air and recharge energies in a safe and natural environment.
You can enjoy our trails for mountain bike as well as for hiking and joging.
Culture
Preserve heritage is to preserve the origin
Kind people, respectful of nature and attached to Guanacaste´s ancestral tradition; a town rich in history and cultural legacy expressed in their celebrations and religious syncretism marked by Spanish Catholic influence coexisting with the Chorotega indigenous essence. The footprint of these roots is also expressed in our gastronomy, festivities and our particular way of speaking.
One of the greatest expressions of our culture in Buena Vista del Rincón is our staff´s vocation of service and the way it makes its best efforts to please our guests.
Here you experience the closeness and simplicity of human warmth, simple beings that show themselves as you are learning about their ancient culture in the middle of nature that here we call HOME.
We show and share our essence which fills us with pride.
WE SEEK WHAT HAS NOT BEEN LOST AND IS ENHANCED OVER TIME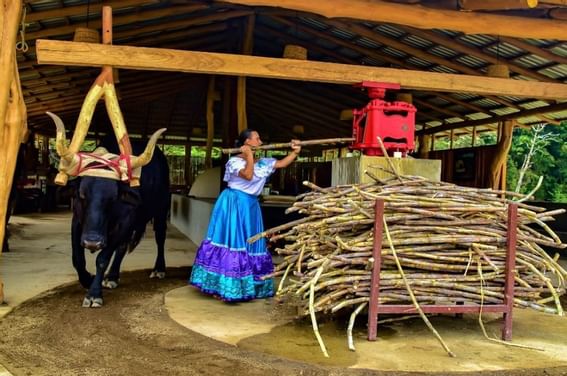 El Trapiche
Sugar cane is a heritage that leaves us guaro, sweets, music and much more!
Led by MATANGA (a gigantic ox) which turns the mill to make the grinding, you will learn about growing and artisanal process of sugarcane, elaboration of GUARO (national liquor) and much more about heritage and history of our country.
In the traditional Sugar Mill, you will closely experience our roots, taste delicious freshly squeezed cane juice and "rosquillas" baked in wood.
You will hear interesting and funny stories told by our peasants which will make you fall in love with our culture.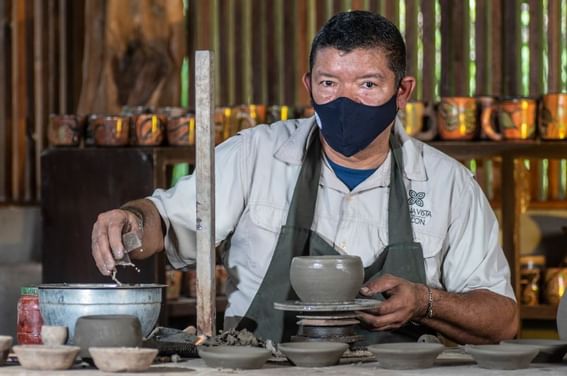 Guaitil Workshop
Chorotega Essence in a craft workshop
A craftsman from the village of Guaitil, Santa Cruz, Guanacaste will show you its secrets about the art of Pre-Colombian pottery; original pieces of Chorotega ceramics, unique in Central America with Designation of Origin seal.
Inherited techniques from generation to generation, attached to its origin, using materials extracted from the area and natural tools, to create original designs, shapes and colors of Guatil ceramic pieces.
The whole Guatil village has been dedicated for more than 5000 years to the art of pottery and its sale; they created an economic system that support the villagers.
They used clay from the area and a Pre-Colombian style.
Tradition, art and love reflected in creations of pots, jugs, vases and other pieces that sing to beauty, love, the sun and to God.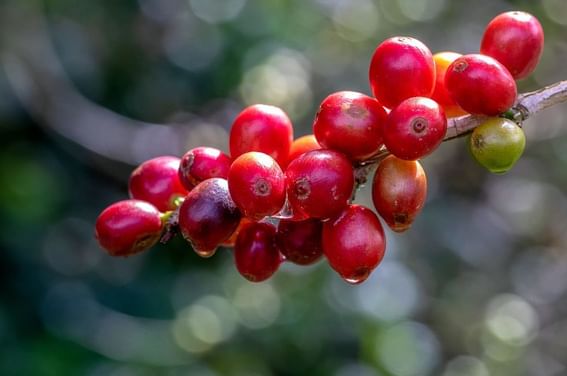 Güipipía Gourmet Coffee
Nothing like our coffee
Coffee is part of our culture, traditions and national pride. We love good coffee and we have a special one for our visitors.
Our GÚIPIPIA Gourmet Coffee is exquisite. We are a roaster that ensures the quality of the golden bean that characterizes Costa Rica.
National experts in roasting, tasting and barismo have trained our staff achieving roasting profiles that result in a gourmet product of very high quality. Our visitors can taste and take home Tarrazú and Valle Occidental specialty coffee as well as Tarrazú specialty coffee from Monteverde.
We have spaces planted with our golden bean to offer a Coffee Tour in Guanacaste, Costa Rica, and in this way, you will know more about our traditional beverage and national pride.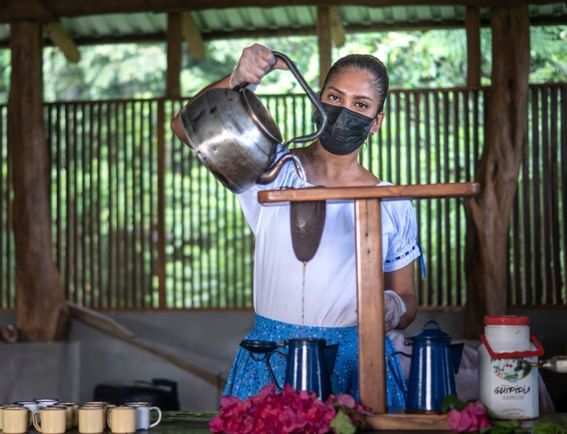 La Fonda
Traditional Cuisine from a livestock hacienda
The perfect place to dream and connect with ancestral roots and essences.
A journey through Guanacaste gastronomy and the Chorotega and Spanish cultural heritage which in combination make their typical dishes delicious and unique.
Typical and mestizo dishes of exquisite taste and predominantly indigenous influence. You will learn how to "nixquezar" (mix corn grains with ashes) and grind the corn, an ancestral technique in processing the grain to make tortillas combining them with "cuajadas" (milk curd), a traditional type of cheese prepared with the milking of the day.
You will taste the culture, learn about its preparation and preserve in traditional containers of indigenous predominance.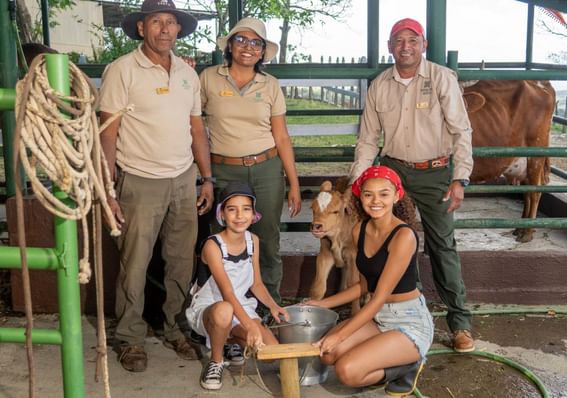 Sustainable Farm
Regenerating the planet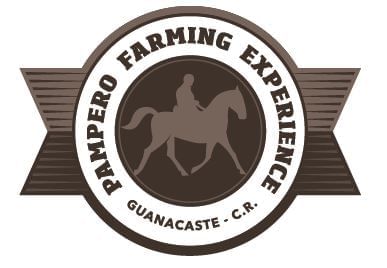 A tour of our farm guided by a specialist. You will visit the farm and learn about friendly grazing chickens, crazy goats, gentle pigs and our dear milking cows.
You will walk through the garden and you will be told about sustainable production techniques using compost, artisan dairy farm and the responsible use of solid waste from kitchens. You will learn how we treat wastewater through the biodigester and the production of methane gas that we use to cook and wash laundry.
You will visit our laboratory of natural cosmetics and personal care products from the use of natural oils and essences; you will live a learning experience of caring for our home: Mother Earth.
Wellness
Disconnect from noise and chaos to connect your senses with your own essence, natural wisdom and relaxation of body and mind
We offer an integral multisensory experience, release and intensity of adrenaline from the adventure in the forest, absolute relaxation in the warm waters of the volcano that caress your skin and make your mind rest. You will receive nourishment from the land carefully grown and from its fruit, delicious recipes from our cultural roots prepared from loving hands.
You will receive an indulgent treatment to relax your body, nurture the spirit and free the soul that will remain in connection with this forest forever and ever.
We are the gift of wellness in Guanacaste, Costa Rica

Book a Tour
At Buena Vista Del Rincon Eco Adventure Park, Hotel & Spa, experience is our essence!