What to do in Guanacaste Costa Rica?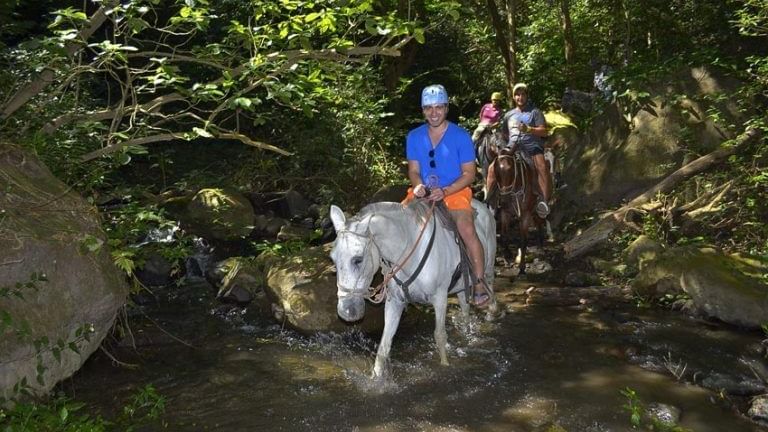 If you're planning a trip to Guanacaste, Costa Rica, get ready to be blown away.
This province has everything you could possibly want on vacation: beaches, wildlife, adventure, culture, and amazing food. It's the number one destination for tropical getaways and adrenaline-filled travel.
Your vacation can be as relaxing and tranquil as you need, and as culturally enriching as you want. The beautiful people of this region are quick to share their fascinating traditions and festivals-but you may want to brush up on your Spanish!
To help you plan your vacation, here are some ideas on what to do in Guanacaste:

1. Check out the Beaches
Costa Rica is notorious for having some of the world's most beautiful beaches, and the Guanacaste coastline is no exception. While some beaches will have the idyllic white sand and turquoise waters, many beaches in this region have the quintessential Costa Rican black sand and dark water.
Tamarindo beach is usually full of tourists and locals enjoying the sun; for a more secluded beach day, check out Samara Beach, Flamingo Beach, and Langosta. Langosta is exceptionally great for swimming.
Plan a couple hours at multiple beaches during your vacation so you can get a well-rounded experience of the Guanacaste beachcombing life.

2. Catch Some Waves
Surfing is the number one activity that brings travelers to Costa Rica. Guanacaste is a hotspot for epic waves that will please both beginners and pros.
If you've never surfed before and will need lessons, Tamarindo beach is the perfect spot to start. The waves are gentle enough for you to catch your bearings and practice your balance.
For more advanced waves, surfers flock to Playa Grande, Playa Avellana, and Witch's Rock which has the best surf break in all of Costa Rica. There are also lots of hidden, unexplored beaches with epic surfing, you just have to find them.

3. Go Hiking
There's no shortage of excellent hiking trails in Guanacaste.
The most popular, and arguably the most exciting, is the Guanacaste Conservation Site. As a UNESCO World Heritage site, this zone in Guanacaste has gorgeous landscapes.
You can hike the tropical forests of the Rincon de la Vieja National Park and marvel at this natural wonder. Then, try the famous zip lining canopy tour through the treetops; later, take a refreshing dip in one of the many natural hot springs.
For a more leisurely day, pack a lunch and go for a picnic overlooking the landscape. You won't be disappointed.

4. Enjoy the Nightlife
Tamarindo has the best nightlife in Guanacaste with tons of bars, restaurants, and clubs.
Tourists can enjoy a tropical cocktail with their toes in the sand since most of these establishments are located right on the beach. Go for a swim, then go bar hopping and disco-dancing.
One of the busiest and most fun bars to check out is Crazy Monkey Bar where they regularly have live salsa music for you to listen and dance to. You may even find a local who's kind enough to teach you some moves.

5. Witness a Bull Riding Event
Bull riding has a long and rich history in Guanacaste that is still cherished and practiced today. Unlike the bullfighting of Spain, the bullfighting in Costa Rica includes no harming or killing of the bulls. It's purely for entertainment and fun.
There are multiple festivals each year that host bull riding events. The best part of each show is watching the Sabaneros try to hang on to the bull as long as they can.
Festivals are full of families spending time together and tourists experiencing the local culture. During your stay, make sure to ask your resort or hotel where the next bull riding event will be.

6. Observe the Marine Life
Costa Rica's coastlines are full of marine animals and tropical fish making it a hot destination for scuba diving and snorkeling.
The reefs off of Samara beach are notorious for hosting schools of tropical fish, sea urchins, eels, and octopuses. Plus, you can sometimes see sea turtles and manta rays. If you go farther out from the reef, you may even see sharks and dolphins.
Beginners will find easy areas to explore with their guide, and advanced divers and snorkelers will discover new areas that challenge their skills.

7. Check Out Some Turtle Nesting Sites
Every year, thousands of leatherback turtles return to the beaches of Guanacaste to lay their eggs. The best beach to witness this spectacle of nature is at Grande Beach, just North of Tamarindo.
Most of the species of sea turtles that return to Costa Rica are endangered, therefore, all nesting sites are guarded and require authorized guides to take you in.
These turtles and their nests are a huge point of pride for Costa Ricans and they're very protective of them.

8. Go Horseback Riding
An exciting way to explore the landscape is by horseback. A local guide can take you and your group through the valleys, tropical dry forest, mountain trails, and along the beaches.
No experience riding horses is required, although you may want to practice your Spanish so you can converse with your guide.
Horseback riding is a great way to see the sites at a faster pace than hiking. You'll cover miles of land in only a couple hours and learn about the region from someone who knows it best.

9. Explore the Barra Honda Caves
Deep underground in the Barra Honda National Park is the Barra Honda Caves. These limestone caves allow you to observe 60 million-year-old coral, bats, and hardened calcium.
The entrances to get down into the caves are vertical, meaning you will need climbing equipment to reach them. Most tours you sign up for will provide climbing equipment as well as helmets and flashlights.
This is a once in a lifetime experience that you shouldn't miss.

10. Check Out Guanacaste's Tropical Forest
Guanacaste's Forest is full of lush tropical plants, gorgeous scenery, and thriving wildlife. During your vacation, you need to check out Buena Vista's primary tropical forest to learn about Guanacaste's ecosystems and the animals that inhabit it.
During the daytime, you may see sloths, jaguars, monkeys, and lots of birds and insects. At night, the nocturnal animals come out, such as snakes, spiders, and tree frogs.
As most touristic zones in Costa Rica, Guanacaste is also a great region for bird watching. There are several companies that specializes in birding tours throughout Costa Rica, one company that stands out in the Costa Rica birding field is Costa Rica Focus, they are known for crafting custom birding tours in Costa Rica.
Regardless of what time your tour is, you are sure to see some incredible wildlife.
Want More Things to Do in Guanacaste?
Guanacaste, Costa Rica, is home to some of the country's most beautiful and most epic vacation excursions. Visitors rave about the pristine beaches, amazing wildlife, and fun activities for the whole family here. There're lots of other things to do in Guanacaste for every travel style. For more information on tours and planning your vacation, send us a message.