Useful Tips on How to Plan a Trip to Costa Rica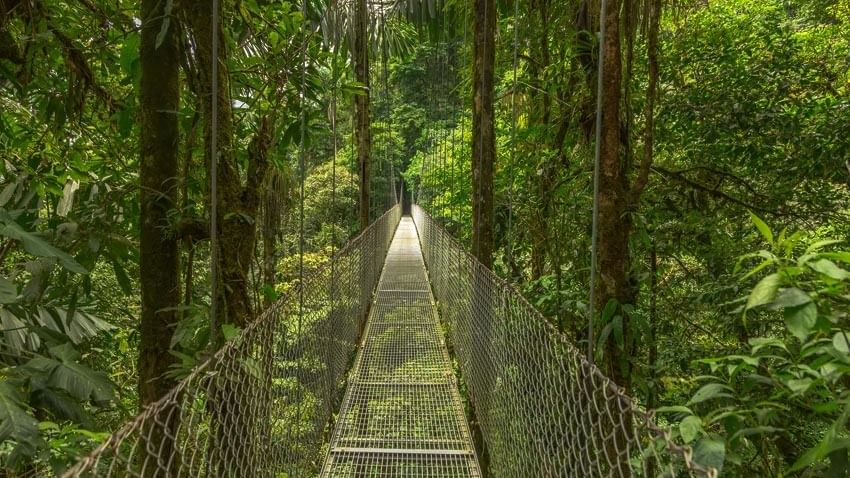 Costa Rica, whose name means rich coast in Spanish, offers travelers unparalleled landscapes of volcanoes, beaches, and rainforests. According to Fodor's, nearly 15% of Costa Rica is a national park and reserve. Costa Rica is an appealing destination for travelers who want to experience it all. Read on and we'll help you plan a trip to Costa Rica.
Set Your Budget For Your Trip to Costa Rica
Plan a budget. Costa Rica is a country you can enjoy on anything from a backpackers budget to a luxury budget. Backpackers frequently stay in guesthouse dorm rooms and take public transit. High-end vacationers fly around the country to visit the various cities and stay in 5-star resorts. No matter what you can afford to spend, take time to write out your budget. Subtract your flight and accommodations. Then you will be able to see how much you can spend on excursions, food, and transportation.
When to Visit Costa Rica
Costa Rica has a dry and wet season. When you plan a trip to Costa Rica will affect the cost of your trip. The dry season is from mid-December to mid-April. During this time, there are countless sunny days. This is when most tourists visit. Be prepared to book your reservations in advance and to pay more. Anytime from May to November is the wet season. During this season there is significant rainfall. Rivers swell and roads are muddy. There are fewer travelers at this time of year. Prices drop which makes it an ideal time to go if you are on a small budget.
Read a blog post that highlights that Costa Rica is safe if you bring your common sense.

Costa Rica Trip Planner - Where to Visit
There are so many amazing cities and attractions in Costa Rica. You won't be able to see and do it all in one visit (unless you are going for an extended trip). Make sure to do some research into the types of activities and sights you want to see the most. Put these on the top of your trip. Next, pencil in a calendar with how many days you will spend at each destination. Then fill in the rest of the trip with fun things you will enjoy that are near your top sites.
Pick your Airport
If you haven't booked your flights to and from Costa Rica yet, choose the airport closest to your destination interests. That will minimize travel within Costa Rica. For example, if you are interested in visiting a Central Pacific beach you may prefer to fly in and out of the San Jose airport. But if you plan to visit a Northern Pacific beach, flying into the Liberia airport makes sense. Tourists tend to fly into San Jose because it is central. This airport can also be cheaper. If you plan on visiting the Guanacaste region, definitely consider flying into Liberia. Read this blog post that compares the two Costa Rica airports.

Book Some Day Trips in Costa Rica
When you plan a trip to Costa Rica, include a few one-day tours. Take advantage of these tours in the local areas you want to visit. Day tours are a great way to pack as much into a day as possible. Day tours can be tailored to what you are looking for. There are tours that focus on culture and history and others that focus on excitement and adventure. Day tours are a perfect way to get to know the best places in Costa Rica.
Plan Your Transportation
Think about your Costa Rica travel plan. Place a dot on the Costa Rica map for each location you want to visit. Now connect the dots and plan how to will get to and from each. You can rent a car and be self-reliant. Or you can rely on public transit and try to figure out the schedule. A third option is to pay for a shuttle service.
With a shuttle service, you'll enjoy your journey in a secure and comfortable A/C buses. Get an unlimited pass so you can ride as many shuttle routes as you want for the entire week. This is a step up from public transit yet less stress than navigating the roads yourself.
Plan to travel in a loop or a straight line. This will allow you to enjoy more time doing and seeing things instead of wasting time traveling in between spots.
Research Good Local Restaurants
One of the best things about traveling to Costa Rica is the fabulous food. Food can quickly eat up your budget, so make sure to plan where you will eat. Consider alternating between inexpensive sodas (family-run stalls) as well as foodie-favorite restaurants. Whenever you go, try to sample as many authentic Costa Rican dishes as you can. Here's a list of some authentic foods to try.
Casado
Rice and beans are a staple on Costa Rican menus. Make sure to order a Casado which is English means "married". This dish comes with black beans, rice, and a choice of protein.
Pejibayes
One staple of daily culture in Costa Rica is pejibayes (peach palm fruit). This fruit comes from a palm tree. It is boiled in salted water and topped with mayo. Some restaurants offer pejibayes as pures with cream or blended as a silken soup.

Picadillo
This savory side dish goes with many Costa Rican meals, especially the casado. This dish is made by dicing parboiled vegetables. They are fried with onions, carrots, and garlic. Versions vary slightly from region to region. This is one dish you'll find on the table of most Ticos for dinner.
Check out Loney Planet's best places to eat in Costa Rica list.

Start Packing for Costa Rica
Yay! It's time to pack! That means it's almost time for your trip! Packing for Costa Rica can be tricky. There are several different biodiverse climates. You may visit the rainforest, beaches, volcanoes, and mountains all in one trip.
Here is our list of must-have gear for Costa Rica. These are items we feel are must-have things that will help travelers enjoy the richness of Costa Rica to the fullest.
Comfortable sandals that you can do a lot of walking in
Snorkel
Binoculars
lightweight rain jacket
Bug spray
Sunscreen
After sun lotion
GoPro to capture every moment
Waterproof bag
Microfiber towel so that you can pack up and go after your shower
Filtered water bottle
Money belt
Travel Insurance
Final Thoughts on Costa Rica Vacation Planning
A good vacation is largely dependant on your planning and foresight before you embark.
We hope you found these tips helping to plan a trip to Costa Rica. If you set our budget and plan what you want to do most, you're sure to have an unforgettable vacation in Costa Rica.